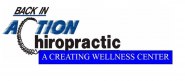 Welcome
At Back in Action Chiropractic we take your family's health seriously. We are a fully-equipped Auto/Work Comp and Injury Rehabilitation Center offering state-of-the-art technology combined with a personal hands-on approach to care. We pride ourselves in having a convenient on-site billing department to promptly handle and answer all of your insurance questions. Our courteous staff, caring and experienced Doctors and Licensed Massage Therapists will guide you "back" to your optimum function thus creating a healthier and happier you.
STAY SAFE, TAKE CARE OF YOURSELF AND YOUR LOVED ONES. IN THE FACE OF ANY CRISIS LOOK FOR THE GOOD,THE HELPERS,THE ANGELS -Dr.C
TESTIMONIALS:
"Good Morning,
I wanted to send this letter to thank you both for setting me free.
I say setting me free because I have been confined and held hostage for so long by my ankle pain.
Starting back as far as I can remember I have had ankle issues and for an active young person it wasn't helpful.
I do events, shop a lot, travel and do things with my beautiful children but I knew any longer than an hour or two I was going to pay for it the next few days.
My regimen before Kee was taking Aleve or Meloxicam, soaking my feet, wearing an ankle brace and praying I would be able to get up and walk the next morning.
By the way yes the doctors diagnosed me with arthritis and sent me home with Meloxicam...smh
Holding on to the furniture just to walk to the bathroom the next day was a normal thing.
Not today!!!
Thanks to Kee's cupping session and Dr. Chandler's chiropractic adjustment with my new insoles :)
I slept 9-1/2 hours last night...yes 9-1/2 hours!!!! I have never slept 9-1/2 hours in 47 years...amazing
I was concerned because usually my bladder was my alarm clock 2:30, 4:30.
Also I have always had a problem sleeping on my left side. Well I slept the whole night on my left side!!!
This is the first time in about 12 years I stood up and walked without holding on to anything to go to the bathroom after a night of doing events. WHAT!??!
I looked down and asked myself am I still asleep or dreaming??? Is this really my ankle???
It is and it's not swollen....WHAT!!!!???
I still can't believe it but I am up and walking around without support of any kind.
Thank you both for being a blessing in my life and helping me to be free. You are both truly blessed and are doing God's work.
Sincerely,"
Debbie
Click here for more information on children and chiropractic.
GPS Directions: 819 New Churchmans Rd 19720